Neglected French Bulldog Puppies Receiving Care at our New Medical Center
Oct 22, 2020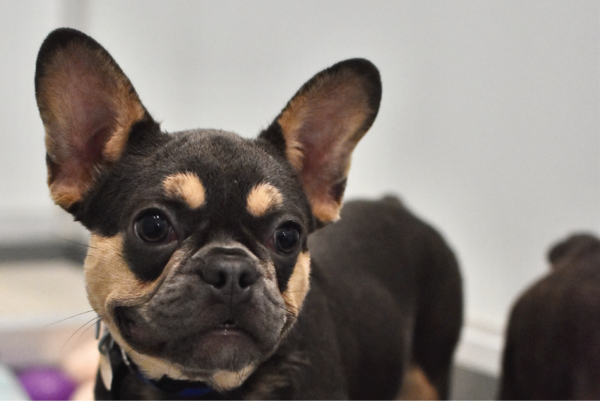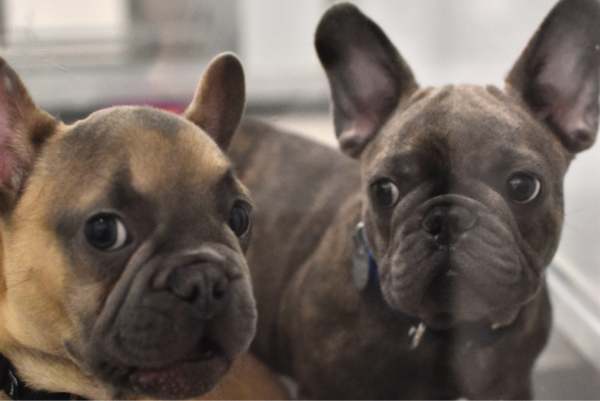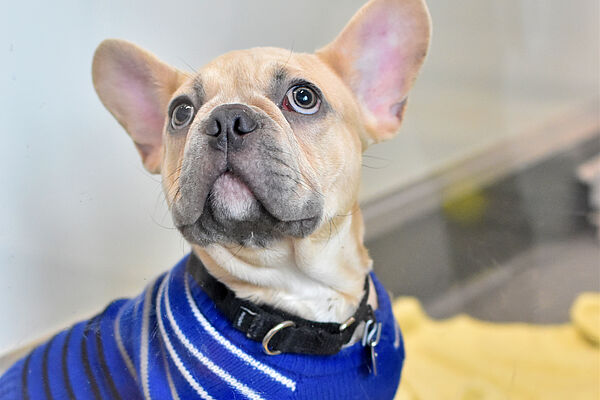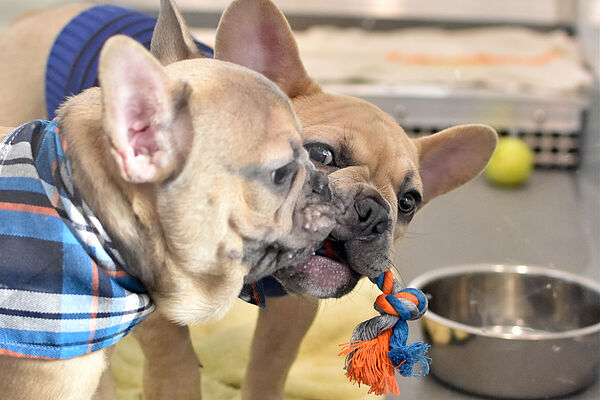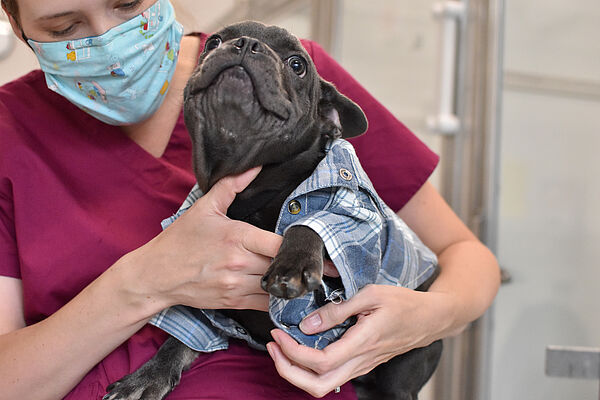 May 19, 2021
The story of the French Bulldogs continues to have a lasting impact for animals. Congressman Quigley was one of the strongest advocates to help the bulldogs to safety at PAWS Chicago, and has continued to push for change in Congress. During a recent congressional hearing on Customs and Border Protection's (CBP) Resource Management and Operational Priorities, Quigley questioned CBP Acting Commissioner Troy Miller about the safety and wellbeing of imported live animals.
Illustrating the horrid conditions that the bulldogs were found in, Quigley reminded committee members that the animals were kept in small cages covered in feces and urine without food or water for several days, before pointing to the ARK at JFK airport in New York as the only example of what a properly bonded warehouse designed for housing animals looks like. Unfortunately, it's the only one in the nation.
Quigley used this opportunity to press Miller to prioritize adding more proper bonded facilities that will meet the standard of care for live animals, updating care practices, and questioned what resources CBP needs to make this happen. Miller assured the committee that he will work with the CDC and USDA APHIS agencies to look at the issue and work with their partners to address the safety and welfare of live animals being imported into the country.
The fight for animal safety continues. Thank you to Congressman Quigley for raising awareness and ensuring the safety of animals. You can watch Congressman Quigley's full questions here.
---
October 22, 2020
Today, we're celebrating these fifteen French Bulldog puppies who, after more than three weeks in our care, are at the end of their quarantine period. They've come such a long way in their tumultuous journey to safety that it was only fitting to throw them their very own party, complete with chomp-pagne and pupcake toys.
Our new Medical Center allowed them to quarantine per CDC regulations when, otherwise, they could not have been able to stay in the country. They've received all of their required vaccinations, treatment for gastrointestinal parasites, and are now taking their next steps in Chicago with a clean bill of health and a whole team behind them.
This incredible work couldn't have been done without the help of animal advocates: thank you to Tinsley Mortimer and Scott Kluth, Social Compassion in Legislation and their board member, Louise Linton Mnuchin, Congressman Mike Quigley, Senator Tammy Duckworth, the Chicago Police Department, and Chicago French Bulldog Rescue.
Most of all, thanks to our community of Chicago animal lovers for helping us raise the funds we needed to build our state-of-the-art homeless pet hospital just in time to provide a safe haven for these French Bulldog puppies. You've impacted the future of animals who might face similar hardships more than you know.

---
OCTOBER 16, 2020
Earlier this week, PAWS Chicago supporter, Tinsley Mortimer, visited our Medical Center to see the French Bulldog puppies currently quarantining in our care.
When Tinsley first learned of these puppies and the neglect they'd lived through following their illegal transport to America, the CDC had already ordered them to be flown back to their home country despite the abuse they'd faced. She immediately contacted PAWS Chicago to see what we could do and together, we went to work making sure they could stay.
Thanks to our state-of-the-art Medical Center, the CDC determined they'd be able to remain in the United States, receiving the necessary medical care and vaccinations and quarantining per CDC guidelines. Tinsley and her fiancé, Scott Kluth, are now helping to sponsor the French Bulldog puppies' care while they're here at PAWS.
Tinsley had the following to say about her her recent visit:
"Yay!!!???? We saved the 15 French Bulldog puppies thanks to @PAWSChicago and I got to see all of them while they are healing in quarantine! These poor babies survived negligent conditions after being illegally imported to the United States and left in a warehouse for 3 days with no food or water! Thankfully through a ton of work the CDC agreed to allow the puppies to complete their mandatory legal quarantine at PAWS Chicago's state-of-the-art Medical Center. If it weren't for @PAWSChicago, these poor babies would have suffered so much more and been sent back. They are doing so well and are sooo adorable!!! Link in bio to learn more!"
You can read her full post and see a few photos from her time at our Medical Center here.
While the French Bulldog puppies wrap up their quarantine period, we'll continue monitoring their health, providing all the care they could need, and making sure they feel safe. Since arriving at PAWS, they've shown an incredible amount of joy in the face of so much pain. Their sweet personalities have captured all of our hearts and are a constant reminder of the resiliency of homeless animals.
Thank you, Tinsley and Scott, for your unwavering support of animals in need and your generous sponsorship for the care of these neglected pups!
---
OCTOBER 5, 2020
FRENCH BULLDOG UPDATE
After an arduous journey from their home country and three negligent days in a warehouse without food, water, or care, the French Bulldog puppies that arrived in Chicago via Royal Jordanian Air are well on their way to recovery.
For the past eight days, the pups have been receiving medical care and quarantining at our Medical Center. They've each undergone general check-ups to ensure they're not battling any illnesses or injuries, are now up to date on all vaccinations, and are learning what it's like to feel safe. They will remain quarantined at our Medical Center until October 22nd per CDC guidelines.
Since arriving, we've seen each pup's personality come to life. Despite the trauma they've endured, they're incredibly loving and playful. The tenacity of these sweet puppies is incredible, and it's because of the support of animal lovers like you and a generous grant from Maddie's Fund that we now have the isolation space and resources in our new Medical Center to care for homeless animals like them.
Following their quarantine, PAWS Chicago will not be facilitating any adoptions or foster homes. Once the mandatory quarantine and medical care has been completed at our Medical Center, Chicago French Bulldog Rescue will facilitate all adoptions.
OCTOBER 1, 2020
Chicago Police recently received a call about French Bulldog puppies who were rescued from negligent conditions at a warehouse near O'Hare International Airport after being shipped to Chicago on Royal Jordanian Airlines.
So began the winding and dangerous road these sweet pups face for survival.
The Centers for Disease Control and Prevention (CDC) requires dogs entering the United States from countries with high risk of rabies to have valid vaccine certifications. The bulldogs didn't have the paperwork, so the CDC ordered them to return to their country of origin. Instead of an immediate return, Royal Jordanian Air handed the puppies to the warehouse for holding on August 28. The puppies were discovered almost three days later, one tragically dead, when Chicago Police were alerted to the situation. The warehouse was cited for animal cruelty and neglect. Chicago French Bulldog Rescue took custody of the dogs, and PAWS Chicago was contacted for assistance by Tinsley Mortimer, PAWS Chicago board member.
These vulnerable pups were facing imminent return to an unknown future in their home country. That's when PAWS Chicago was asked to get involved.
Our first call was to Judie Mancuso with Social Compassion in Legislation, a long-time PAWS advocate and national leader in animal welfare legislation. She connected us with her board member, animal activist Louise Linton Mnuchin. Louise has been instrumental in working with Brian Harrison, Chief of Staff at the United States Department of Health and Human Services (HHS) so the animals could stay at Chicago and not have to be returned to Jordan.
The CDC required the dogs complete their mandatory quarantine period at a medical grade facility like PAWS Chicago's state-of-the-art isolation pavilion in our new Maddie's® Pet Hospital. On Monday, September 28, the puppies were brought to the PAWS Chicago Medical Center where they received additional treatment and vaccinations while fulfilling the legal quarantine requirement.
"It's imperative that we put a stop to the importation of pets to the United States when there a hundreds of thousands of adoptable animals of all ages and breeds," Louise commented.
PAWS Chicago built its new Medical Center as a resource for situations just like this, noted PAWS Founder and Chair Paula Fasseas.
"We are so relieved that these dogs are now safe in our new Medical Center," Paula said. "We built the isolation pavilion in our new Maddie's® Pet Hospital because of serious situations like this. We are grateful for everyone that came together to protect the lives of these innocent, vulnerable animals. We need national legislation to prevent this kind of suffering from happening again."
Chicago French Bulldog Rescue is working with Royal Jordanian Airlines on transfer of ownership and will facilitate the dog adoptions once their quarantine and medical care has been completed at PAWS Chicago.
PAWS Chicago is determined to advocate for better quarantine facilities and regulations for animals arriving at O'Hare Airport and will be working with Social Compassion in Legislation, Congressman Mike Quigley and Senator Tammy Duckworth, and other national organizations to develop animal welfare legislation to stop illegal animal importing.