Meet Marylou, PAWS Veterinary Apprentice Program Graduate
Oct 12, 2020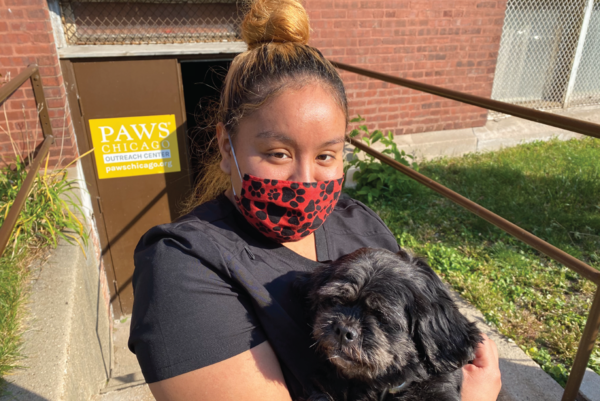 Marylou Ramos graduated from the PAWS Veterinary Apprentice Program last week. She spent time over the last 12-weeks working one-on-one with PAWS veterinarians, learning about animal care, nutrition, medication, and supporting PAWS veterinarians in their overall diagnosis and treatment of animals. She said learning about the animals was what she wanted from the program. But it wasn't all that she got.
"I have more confidence now," she said.
She's not alone in her newfound confidence. Fellow apprentices Shameika Walton and Marigold Martinez feel it too.
The 50-something Marigold she said proved to herself and her children that people can learn and grow at any stage in life. "A girlfriend sent this to me for one of my kids. I thought I could try it. I thought, 'my brain can still function.' I'm proud to do this. I'm always looking forward to the next week," she said during a break last week from helping PAWS veterinarian, Dr. Joanne Pacheco conduct exams at the PAWS Community Outreach office in Englewood.
Apprentices work alongside technicians and gain skills for working in animal welfare. The part-time opportunity is open to anyone age 18 or older who lives in the South Side. Preference will be given to Englewood, West Englewood and Back of the Yards residents. No prior experience is necessary, according to Laurie Maxwell, director of community outreach.
"A vet needs technicians and assistants, and instead of pulling one of our technicians away from the medical center, what we did is we used this real job need as an opportunity to engage the community in a different way," Laurie said.
Upon completing the program Marylou will continue her current position in animal care at PAWS, while now taking on administrative responsibilities in the Vaccine Clinic.
"I'm grateful for the opportunity I have to be in the Clinic and be with PAWS for some good amount of time now," she said.
And as she and the other apprentices gain skills and confidence they see opportunities opening up for themselves and even their families.
"I want to show my 17-year-old daughter it can be done. I want to inspire her to be the veterinarian," Marigold said.