Hospice Foster
by Patty Donmoyer | Oct 31, 2010
Providing a Nurturing Home for Pets with Terminal Illness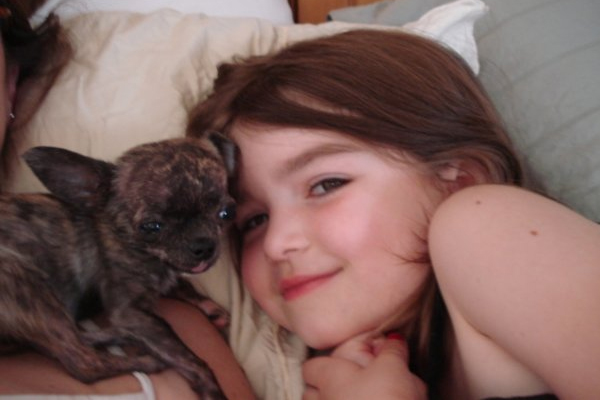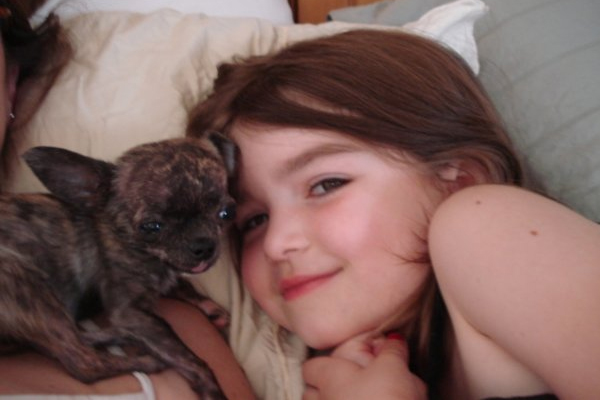 This past April, Leana Ruiz opened her home to Flaca, one of five puppies rescued from a puppy mill. From the start, Flaca's prognosis was grim. She was experiencing seizures, was lethargic and extremely underweight. Her littermates sensed her illness and bullied her and she eventually stopped eating. For several months at the onset of her foster time, Ruiz cooked for Flaca and hand-fed her with a syringe, in addition to bringing her to PAWS Chicago's Lurie Clinic for blood work, vaccinations and a battery of tests.
Today, Flaca remains with Leana, and her prognosis is brighter. Ruiz remains hopeful that it will get even better with time and care, but understands the reality of her condition. "Every day she makes me laugh. The most important thing for me was that she made it this long against all odds and is a loving, intelligent dog in spite of her miniscule size, peculiar looks and [medical] condition," says Ruiz.
In most cultures, aging, illness and inevitable death are subjects largely avoided or ignored – until the reality of a loved one's imminent passing hits home. Western culture focuses so intently on the vibrancy of youth that those entering the final stages of life – especially those without family or financial means – are often forgotten.
The plight of homeless pets nearing the end of life is no exception. For this specific group of animals, the odds of being treated and given a second chance at life within a loving home is slim. PAWS Chicago's commitment to the life of the animals it takes in provides a life-affirming option for those animals in the twilight of their existence.
The foster program at PAWS Chicago is nothing new and currently has over 250 active cat fosters, over 175 active dog foster care volunteers and nearly 100 volunteers who foster both. Typical foster candidates include underage puppies and kittens, whose immune systems have not developed sufficiently to withstand common infections and are not yet ready for adoption.
Candidates may also be dogs or cats who have undergone minor surgeries or are in need of socialization or minor medical treatment before they can be placed into permanent homes. Allowing these dogs and cats to rest, heal and gain confidence within the home of a caring volunteer not only increases the chances of the dog or cat becoming a more adoptable pet, but allows PAWS Chicago the space and resources to take more animals into its care and guarantee them life.
PAWS Chicago's animal hospice foster care program extends this commitment to dogs and cats whose condition prevents them from being ideal adoption candidates. "It goes hand in hand with PAWS Chicago's No Kill Mission," says Nicole Campos, PAWS Chicago's Foster Care Coordinator. "The medical team makes quality of life decisions if the animal is suffering or in pain that cannot be alleviated. But many animals with terminal illnesses not only have time, but time to thrive before they become symptomatic. Fostering these animals gives them a chance to live out their days with dignity and love. It is a great gift to an animal nearing the end of life."
And for many of the animals who have lived their life in neglect and never felt the love and care of a nurturing family, it is an opportunity to experience the life that every pet deserves.
Recognizing this unique stage in the life of every pet and the extra compassion needed to help them complete the journey, PAWS Chicago works closely with hospice fosters, ensuring that they have the tools necessary to care for these dogs and cats. Fosters are educated about forthcoming surgeries and aftercare, as well as rehab requirements. The Lurie Clinic provides needed veterinary care and medication.
"My cell phone is turned on 24-hours a day and I'm always there to answer questions," says Campos, "and in some cases, when major decisions need to be made I am part of a collective decisionmaking process that focuses on the quality of life for the animal. With hospice fosters, death is a very real possibility and it can be devastating for the caregiver. Not only are they opening up their home and hearts to an animal they don't know, but they are facing the possibility of having to let that pet, who they've cared for, go."
Heart-wrenching, yes, but ask any of the PAWS Chicago hospice fosters about their experiences with hospice pets and they're quick to report that the rewards of their efforts are not only worth the trouble, but life-changing. Every story is unique, as are each of the courageous volunteers who take on the foster hospice task.
Sue Van Winkle and Scott Summerville had more than a few concerns when they agreed to provide a temporary home for Diedra, an adult Labradoodle who was in the advanced stages of cancer. Although many people initially wanted to adopt Diedra, the reality of her terminal condition discouraged them.
When the Adoption & Humane Center was scheduled for painting, Van Winkle and Summerville agreed to foster Diedra. Nearly four months and countless adventures later, it became evident that the time had come to say goodbye to Diedra. While initially vibrant and active, Diedra's health had deteriorated. By the time they let her go, Diedra had changed their lives to such an extent that Summerville penned a 14-page essay about his time with their dog.
"Our four months with Diedra were intense and seemed like years. On many occasions throughout our time with Diedra, after learning of her situation, people would comment that she was lucky to have us and that we were doing a great thing. To us, WE were the lucky ones. She cushioned our personal situation regarding my job loss. Diedra was an angel. She was first and foremost the right companion for us at the time and we will forever remember her for that."
Sweetie, a three-year-old cat whose grade three heart murmur will potentially lead to cardiac arrest, is Bernadette Neri's second hospice foster. Despite her shortened life expectancy, Neri reports that Sweetie is "doing wonderful. It seems like we are going to be together for awhile," she adds hopefully.
There are currently numerous homeless pets at PAWS Chicago who need foster care—to help them become healthy, socialized and ready for adoption. And for foster volunteers with a special place in their hearts, hospice foster care is needed for those pets who seek a quiet, caring and loving home to live out their "golden years."