"He was emaciated. Now he is a little sausage."
Jul 18, 2022
Paco was found underweight, dehydrated, and his nails were so overgrown he couldn't walk. Today, he's floating on air (despite putting on quite a few pounds), spending his days with best friend Jamie Young. See how this incredible duo found their way back together after a brief period apart.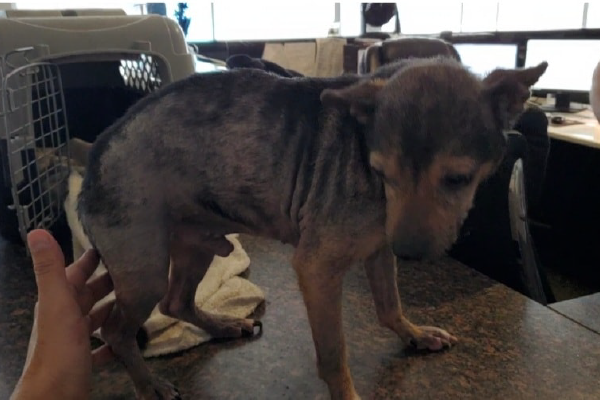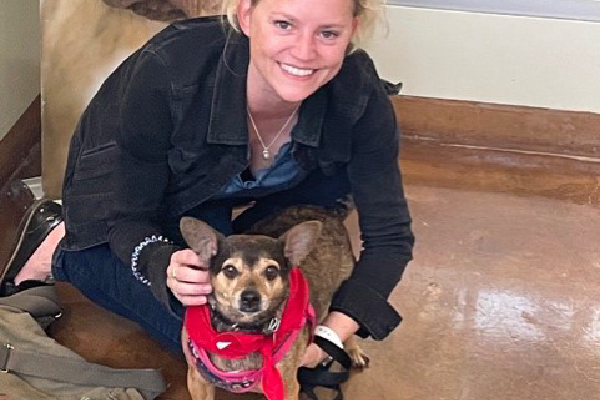 Paco, or Paco Taco as he's known to his friends, was found by a police officer in the 16th District. He was abandoned in a small kennel outside on a street corner in freezing temperatures.
The officer, John Garrido, is a longtime friend of PAWS and reached out to us for help—of course, we said yes. After examining Paco at the Medical Center, we immediately tried to find a foster home where he could heal. Jamie Young proved to be the perfect choice.
"I was contacted by PAWS in February. They told me the police officer took Paco back to the station and made him a bed in their filing cabinet!" said Jamie.
Jamie fostered Paco for three months and he flourished.
Once fully healed, "he was adopted by a friend of mine who had fallen in love with him when they met at my office. She had been looking for a friend for her resident pup. But apparently, it wasn't a good fit."
Which turned out to be serendipity.
"I've been fostering for years and always told myself that if a foster is returned, it's a sign. And it was!"
Ten minutes before Paco was to be returned to our Adoption Center, Jamie made the call to Brian Zeman, our Assistant Director of Foster Programs.
"He's mine. I'm adopting him," Jamie told Brian.
Two hours later, it was official.
"I think I really knew long before then. It was his soulful eyes. When he looks at you, it's like he understands all of your hurts and all of your joys and promises to be there for all of them. He's deeply knowing."
When Jamie brought Paco home, he naturally fit into the family.
"He was immediately accepted by my cats, and they sunbathe on the deck for hours. He wants to be by my side at all times—total Velcro dog! Which is perfect for me. I bring him to work every day and we are probably never apart more than a couple of hours."
Jamie and Paco have a truly special bond. And they're always finding new ways to have fun together.
"We play a game I call 'Tiny Monster. It's where he gets so happy with the scritches that he just rolls around and opens his mouth like a tiny monster, rubbing his face with his paws. I kiss his belly, and he thinks he's in heaven."
Life in general is pretty heavenly for Paco these days as long as he's next to Jamie. And she feels the same way.

"He's my ride or die. He is my best friend. I love how excited he gets when he hears me grab my car keys, and he knows we're going somewhere. He is gentle and patient and looks at me like I hung the moon," said Jamie.
Ready to find your own best friend?