Gordy's Great Adventure
Apr 13, 2021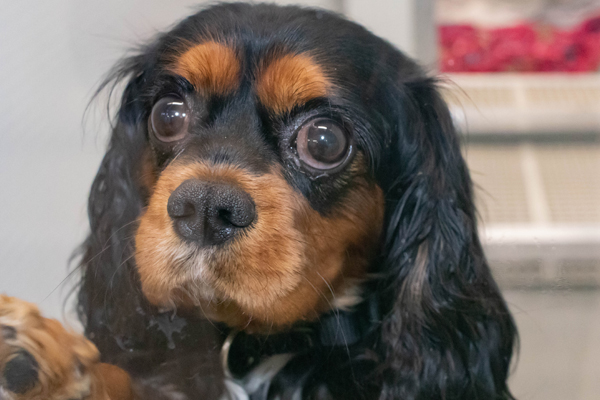 On the city's first warm March day, PAWS Chicago received a call from Chicago Animal Care and Control asking for our help to rescue Gordy, a three-year-old Cavalier King Charles Spaniel who decided to take advantage of the warm weather with a dangerous escapade through Chicago.
Chicago police officers had found him wandering through Chicago traffic as a stray and took him, wagging tail and all, to the city shelter, who then called to ask if we had a place for Gordy at PAWS. And, with our soft spot for homeless animals in need, we said yes!
How Gordy got out will probably always be a mystery – whether he escaped from a walk or slipped out of his home's front door is something we'll never know. Because he wasn't microchipped or wearing a collar, there was no way to find out who Gordy's owners were or where he came from. According to Chicago Animal Care and Control, dogs who arrive to the city shelter not microchipped are 5x less likely to return home to their owners, even if other measures, like flyers, are used to help reunite them with their families.
So even after avoiding speeding cars, Gordy still had one hurdle to overcome – finding a family.
But first, treatment at the PAWS Medical Center! His fur was covered in burs and matted when he arrived in our care and he hadn't received preventative care, like vaccines or a neuter surgery, to help keep him healthy. Zahra Davenport, a member of the PAWS Chicago Intake Team, said that despite the burs being stuck "all around [Gordy's] ears, he was very friendly and sweet! He had no problem letting me take them out" and thanked her with plenty puppy kisses.
Once all the burs were removed and his fur was soft and smooth, the PAWS Medical Center team vaccinated him against illness and performed a neuter surgery to prevent possible health issues and unwanted litters. Finally, he received a microchip just like all the animals in PAWS' care to make sure that if he ever found himself on the loose outside again, his people would know where to find him.
The "how" of Gordy's escape doesn't matter nearly as much as the "now," where he's safe, sound, and loved. Just a few weeks ago, he's found a family to help keep his fur bur-free, his tail wagging, and his adventures safe from traffic! His mom, Gina, said "I've changed Gordy's name to 'Mozart' and... I am so very proud of him. He just loves playing ball and catch. Toys are his world, and the best part is he doesn't destroy them. Everyone in my family just loves him, and he loves to snuggle."
Gordy's story has an incredible ending, but not every pet who goes missing is as lucky as him. Now that warm weather's here and adventures with your furry best friend are calling your name, it's important to remember the importance of microchipping, using a secure leash, collar, or harness, and making sure the information on their nametag is accurate and up to date. If your pet escapes, you can find a few resources to help make sure they make it back home safe and sound here.
Happy life, Gordy!