From Streets to Sofas
May 14, 2021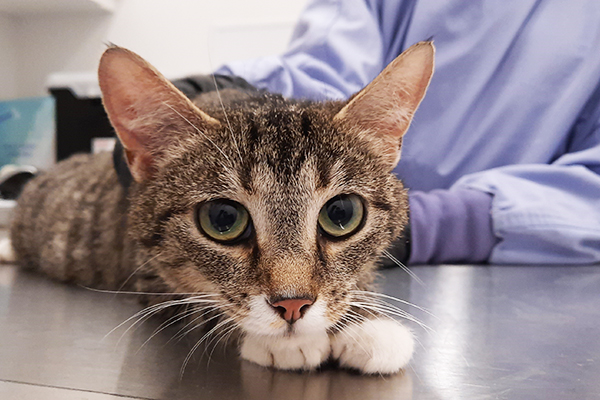 Way back in 2019, in what seems like a completely different world, we met Chloe. Her finder and local community cat caretaker, Denise Thomas, had scooped her up as a stray with the hope of bringing her to PAWS. Unfortunately, Chloe's streets-to-sofa story wouldn't be so easy – she wasn't used to being stuck inside and once at the PAWS Medical Center, was too fractious for spay surgery and intake.
Fast forward to March 30th, 2021, when Chloe and her babies officially became PAWS cats!
So, what happened over the past two years that helped her go from outdoor stray to indoor cat?
A whole lot of Denise's patience, determination, and love!
As a community cat caretaker, Denise is familiar with all it takes to care for feral and stray outdoor cats. She lives near the Back of the Yards and Englewood neighborhoods, two areas with some of Chicago's highest cat colony populations, and provides the community cats on her block everything they need to survive.
Similarly, she understands that not every cat is meant to live life as a pet. Many community cats are loved by the people who share their block and call the various shelters, food stations, and front porches of their neighbors "home." But Chloe's case, Denise knew, was different. When free to roam as an indoor/outdoor cat, Chloe would weave between Denise's feet and beg for pets. It was only when confined in a closed or unfamiliar space that Chloe would show her anxiety with raised fur and yowls.
For two years, Denise worked with Chloe to help her grow comfortable with indoor living, leaving her door open to Chloe's comings and goings and working on her socialization skills. And it worked!
When Chloe arrived at the Englewood Outreach Center in late March with her kittens in tow, she let us welcome her to PAWS with, if not purrs, a cautious acceptance that maybe it wouldn't be so bad.
Now, she and her kittens, Chiquita, Chive, Chopper, and Christopher, spend their days growing in a foster home! When she's done nursing and when her kittens are big enough, they'll all receive spay/neuter surgeries to limit further unplanned litters.
Understanding what's best for community cats, especially during kitten season, can be hard. Thanks to the help of dedicated caretakers like Denise and programs like PAWS Chicago Community Outreach's, rest assured that Chicago's stray or feral feline friends get the very best care for them!
To learn more about community cats (and what to do if they give birth during kitten season), visit this webpage.