Doubling Spay/Neuter Surgeries
Apr 13, 2022
We recently welcomed Dr. Alycia Eisenstein as our Director of Spay/Neuter surgery at the Lurie Clinic, and she's single-handedly doubling our capacity with her precise and lightning-fast skills. Discover how she acquired her expertise. Hint: It involves A LOT of traveling.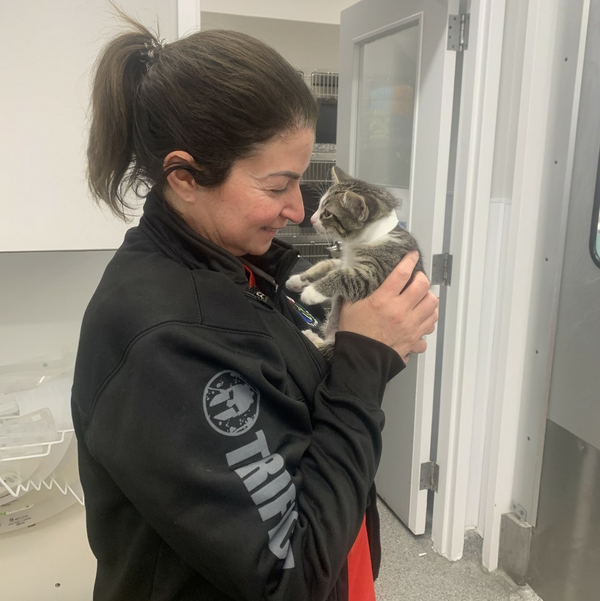 A warm, friendly, and quick to laugh. Oh, and she's one of the leading spay/neuter surgeons in the country. Mic drop.
Alycia grew up in West Roger's Park with a Golden Retriever, "we were kind of like a bonded pair," and she knew very early on that being a vet was her calling.
"There was never a question in my mind. I always knew this is what I was going to do."
Alycia still has a scrap of paper from Kindergarten where she wrote, "When I grow up, I'm going to take care of dogs and cats."
When it came to her choice of vet school, Alycia was just as decisive—Ross University School of Veterinary Medicine on the island of St. Kitts and Nevis.
"It was the only school I applied to."
After Alycia graduated in 2000, she did private practice for two years. In 2003, she opened up her own practice and ran it until 2016 when she decided it was time for a change.
"I always knew I loved surgery and my goal was to give back to the community. That was something that my dad passed down to me. He was always very big on giving back."
What followed was a series of educational adventures, starting with volunteering for Dogs and Cats of the Dominican Republic.
"I flew in on a Tuesday, did surgery Wednesday, Thursday, Friday, Saturday, and flew home Sunday. I did about 80 surgeries in total."
After that, Alycia went to Aruba, then Puerto Rico right after Hurricane Maria.
"From there, I got into Spay-a-thon with the Humane Society, and I started getting a lot more into high volume spay/neuter since 2016."
Alycia attributes her exceptional speed to her many travels.
"I met so many amazing doctors, and I started getting so many tips to become more efficient. It's kind of like in the Olympics—you're not gonna shave off minutes, but you can shave off a couple seconds."
Alycia's big passion for spay/neuter is all about prevention.
"People use the argument, 'Well, my dog stays on the leash' or 'my cat doesn't go outside.' But it's really about preventing so many potential medical conditions, like pyometra (an infection of the uterus) or testicular cancer or prostate cancer."
Every day, Alycia sees animals suffering from preventable issues and owners have to choose between an expensive surgery or having to put their beloved pet down.
"People don't think it's going to happen to them until they end up at the emergency clinic and you're handing them a $5000 bill they can't afford. And we could have avoided this situation."
Last summer, Alycia was contacted by Gabe Nieves, Head of People & Culture at PAWS, on LinkedIn.
"He called, and he's the nicest guy and convinced me to take a shift. And then the staff was so nice. I loved everyone here. And two weeks ago, I went full time."
We're extremely grateful to have Dr. Alycia's skills here at PAWS.
"I'm so, so happy. I mean, the team, they're amazing. I just love it here. Literally, it feels like home. When something is right, you just know," says Alycia.
--------------------------------
Think you can't afford spay/neuter? Think again. The Lurie Clinic offers pricing on a sliding scale so it's affordable for everyone.
Call 773-521-7729 (SPAY) or email clinic@pawschicago.org to make an appointment for your pet today.