Chicago Bears' Matt Forte: A Force for Bully Breeds
by Maggie Hendricks | Jan 10, 2016
Chicago Bears Running Back Matt Forte, one of the best rushers in the NFL, is still not fast enough to win races against his dog, Ali.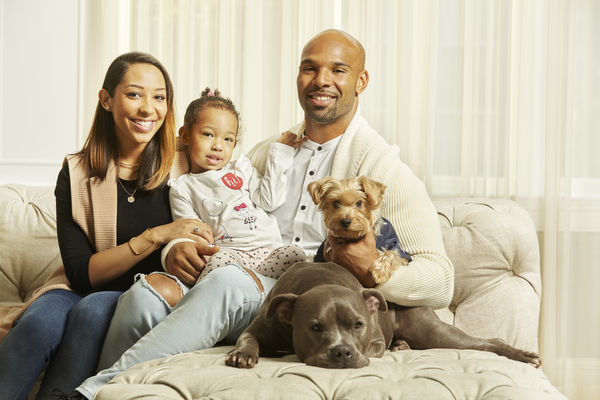 Forte has been a force on offense during his eight seasons in Chicago, and is one of the top rushers in the National Football League. He is known for tough workouts, but he hasn't become one of the NFL's best rushers on his own. Forte gets help from 3-year-old bully breed, Ali.
Forte often works out at The Hill, a spot in Arlington Heights that Bears Hall-of-Famer Walter Payton used for notoriously difficult workouts. When Forte heads out to The Hill from his home in River North, he brings Ali, who joins him on sprints up and down The Hill.
Ali has brought much more to Forte than help on the football field. The dog lives with Matt; his wife, Danielle; their 2-year-old daughter, Nala; newborn son, Matthew Jr.; and their 5-year-old Yorkshire Terrier, Taz. Ali is a big and much-loved part of the Forte family.I used to win, but he's gotten a lot faster as he's gotten older," Forte says. "Sometimes I let him run around and chase me like I'm dodging defenders."

As Matt and Danielle talk about life with their dogs, Ali sits quietly while Nala climbs all over him. The Fortes know that Ali will be protective of their newest family member.

"Ali would never sit with his back toward Nala. He would always face her, no matter where she was. She would be sleeping, and every 15, 20 minutes, he would sniff her, check on her, and go sit back down by her," Forte says.
Taz was the first dog the Fortes brought home. Matt and Danielle knew they wanted to have children, so they didn't make choices lightly when it was time to add a second dog. They wanted a family-friendly pet. Forte says before he brought home Ali, his family worried because of the bad reputation of bully breeds.

"Everybody thinks bully breeds are mean, vicious dogs, which they aren't. So they were kind of concerned when we first were getting one, asking, 'What about when y'all have kids?' But we told them and sent them some of the research about the dogs," Forte says.
The Fortes found Ali to be the perfect addition to the family, but they were sure to find out what their dogs needed to be happy and healthy. "All dogs need a certain amount of exercise and all that, and it's good to be informed whether you're getting a dog or not. Just to know, and not discriminate against them," he says.
They had made the decision to get a bully breed, but hadn't yet found the right one. Matt surprised Danielle when he picked her up from the airport. Ali was in the backseat. While Taz was trained at a kennel, Matt took on the task of training Ali himself.
"I put him in the crate right next to my bed, and he got it right away. He would bark early in the morning—it was kind of like having a baby—at like five o'clock in the morning. Then I'd put him in the grass, so that he would correlate the grass with using the bathroom. He learned from there, and I taught him to sit, and everything came pretty quick with him."
With Ali and Taz trained, Forte now has a more playful relationship with his dogs. He sometimes brings Ali to Halas Hall, where the Bears train, and Ali knows how each dog he sees there likes to play.
"I like to get Ali all riled up. It's good exercise for him. Taz is hilarious because he likes to just sit there and watch. He'll go and try to sneak one of the toys away when Ali's not looking," he says.
Forte is usually the one in charge of the dogs' care, including walking, feeding and discipline. "When I say their names, if I say it too loud, they know. Daddy's home," Forte says.
Forte has to balance his time with his dogs with the demands of a professional football player. During the season, he gets just one day off a week. He travels for at least eight away games, and spends much of the late summer in Bourbonnais, Illinois, for Bears' training camp.
Forte is also very active in the Chicago community. He founded the What's Your Forte? Foundation in 2013 to help at-risk kids in the Chicago area by providing mentoring and scholarships. He also spends many Saturdays in the Englewood neighborhood, coaching a flag-football team and teaching kids about teamwork. In 2015, Forte was nominated for the Walter Payton NFL Man of the Year Award, which recognizes players for their community service.
When Forte is away from home, having Ali with his family gives him some peace of mind. "When I'm not at home, I know that he is protective of the family," Forte says. "It's good to have a dog who can do that and also be gentle with kids."
Bully breeds are becoming more popular for families, and Forte says, he would like to see more people consider them. "Read up on them. Get informed about the breed of dog and that there's many types of bully breeds. Don't put your mind on what everybody always says about them. Just make it up for yourself by reading on the dog and experiencing them for yourself," he says. "Obviously owning a pit is a large responsibility, so make sure you're able to take care of the dog, and provide for it."
Because of his love for dogs, Forte has become the latest bully breed ambassador for PAWS Chicago's Adopt-a-Bull events. Created to dispel myths, raise awareness about the plight of bully breeds in shelters and encourage adoption, Adopt-a-Bull events have become an important way to reach large audiences. Hosted by bully-breed-loving celebrities, the Chicago community is invited to learn more about these dogs and meet bully breeds available for adoption. Visit PAWS Chicago's website for details on Forte's hosted Adopt-a-Bull event in 2016.
"Matt is a wonderful ambassador for bully breeds. He has such a big heart for kids and animals, and he uses his fame to impact the lives of others," says PAWS Founder and Chair Paula Fasseas. "You can just feel the love for his family and his dogs. It's special to see."
Photos: Andy Barnes