Cat Pawsitive Pro Training Program
Mar 31, 2021
PAWS Chicago's Resident Felines Participate in Jackson Galaxy's Cat Pawsitive Pro Program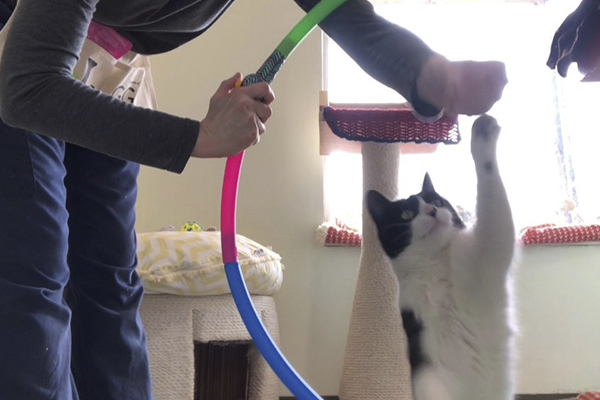 PAWS Chicago is thrilled to have been selected by The Jackson Galaxy Project to participate in the 2021 class of Cat Pawsitive Pro, a life-saving initiative that introduces advanced, positive-reinforcement-based behavior training and enrichment to shelter cats!
Thanks to The Jackson Galaxy Project, Greater Goods Charities, and the Petco Foundation, five of PAWS Chicago's resident felines are work with staff and volunteers to learn behaviors like "sit," "meow," and "go to place." Watch Nadia, Ryker, Sweater, Rudy Rudy and Mandy in action!
Erin Mayes, Assistant Director of Feline Behavior, leads PAWS Chicago's participation, empowering volunteers to train some of PAWS Chicago's adoptable residents of Kitty City to prepare them for their future homes. "This opportunity is an excellent way for volunteers to engage and bond with the longer-term cats in our program by providing the cats with mental and physical enrichment. While these cats may wait longer than average to find an adopter, the training they receive through Cat Pawsitive Pro will set them up for successful transitions into homes where they and their new families can thrive."
Jackson Galaxy, star of the television show My Cat from Hell on Animal Planet, and founder of JGP, developed Cat Pawsitive Pro with a team of feline behavior experts. Watch Jackson's personal message to PAWS Chicago. Highlights of the program include:
Improving cat "adoptability" and feline social skills, particularly for shy or fearful cats and long-term residents
Enriching day-to-day life for cats in shelters with physical and mental activity
Promoting the human-cat bond
Teaching and empowering animal shelter staff and volunteers
Cats who are exposed to the reward-based training methods of Cat Pawsitive Pro gain confidence, experience reduced stress levels, and build connections with staff, volunteers and potential adopters. The program goes from February 1 – April 30 and can help a shy cat learn to feel comfortable coming up to the front of her cage to meet an adopter, a feisty cat can learn to play nice, and an outgoing kitty learn to give an endearing "high-five" to his visitors to seal an adoption deal.
Meet PAWS Chicago's adoptable animals through the Virtual Adoption Process.