Bottle Babies to Big Kids
Jun 07, 2023
Two palm-sized friends were left on our doorstep one chilly morning. Here's how they're doing now.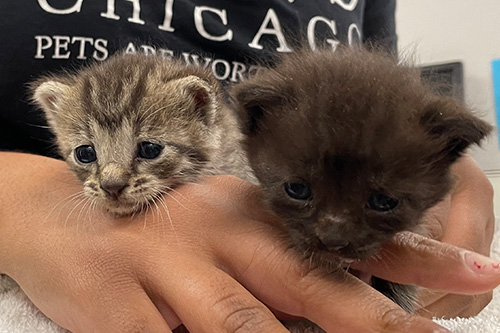 On a chilly morning in early May, our staff was opening the PAWS Medical Center for the day. Luckily, they checked outside the door during these early hours, where they found a carrier sitting outside.
That was how we met two-week old brothers Beanie and Olive, huddled together, but otherwise alone.
Kittens this young are extremely susceptible to hot and cold temperatures, and this could have been a life-threatening situation had we not found them and rushed them indoors to a heating pad to slowly bring their body temperature back to safe levels.
Barely bigger than their namesakes, Beanie and Olive fall into the category of neonate orphan kittens. Without a mother around, they would need round-the-clock care to feed them, keep them warm, and keep them healthy.
They were first fostered by a member of our staff, who bottle fed them for weeks to gain healthy weight. Without the expertise of a mother cat, Beanie and Olive needed human help to continuously monitor their nutrition intake, growth, body temperature, and more. We placed them into an experienced foster home to continue growing big and strong until they're ready for their vaccinations and spay/neuter surgeries. And after that, a loving home!
Since their arrival, they've already doubled in size and are world explorers in the making! This playful duo has been having the most fun growing up together and can't wait for many adventures ahead.
They're still weeks away from that glorious red bandana moment, but with kitten season in full swing, there are so many little ones looking for a family right now!