An Hour That Gave Life to Homeless Pets
May 02, 2023
Fifteen years ago, one hour of television gave new life to shelter pets.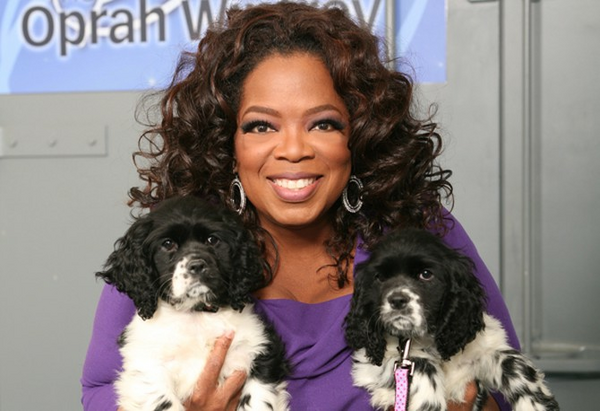 In spring of 2008, Oprah Winfrey aired a show that investigated and exposed puppy mills for their mistreatment of dogs. Oprah's message was to get your dogs and cats from animal shelters rather than breeders. "Adopt Don't Shop" quickly became a popular and proud phrase, reflecting the growing attitude among those adding dogs and cats to their families.
Just three weeks later, with America now laser-focused on the issue, PAWS Chicago was featured on her show, and Oprah toured the newly opened PAWS Chicago Adoption Center spotlighting PAWS as a model No Kill animal welfare organization. Oprah cited our No Kill mission and our humane treatment of animals, including placing them in suites rather than cages, as important attributes.
Oprah sponsored a suite at the PAWS Adoption Center in honor of her Cocker Spaniel Sophie, who died about a month before Oprah's puppy mill episode. In 2009, Oprah adopted a Cocker Spaniel, Sadie, from PAWS; Sadie appeared with Oprah on the June 2009 cover of O Magazine, posing in Sophie's Suite at PAWS Chicago.
The following year, Oprah returned to PAWS to adopt a pair of Springer Spaniels, Sunny and Lauren.
PAWS Chicago, and animal welfare organizations nationwide, continue to feel the impact of those shows. Since her puppy mills program, the world of animal welfare has changed dramatically for the better. Euthanasia rates nationwide and in Chicago have dropped by 75 percent since 2008 (a total of 92.5 percent since PAWS was founded in 1997). The percentage of people who adopt from shelters when getting a pet has more than doubled, to more than 40 percent, while the rate of those who purchase from a breeder has plummeted.
Even though her PAWS shows aired in 2008 and 2010, when people are asked why they choose to adopt from PAWS Chicago, so many still tell us: "Oprah."
One hour can change the conversation and, 15 years later, continue to save countless lives of homeless animals. On behalf of all the people and pets at PAWS over the last 15 years, thank you, Oprah Winfrey!
Photo by George Burns/Harpo Studios