Alison Victoria Crashing Kitchens, Saving Lives
by Megy Karydes | Jul 13, 2015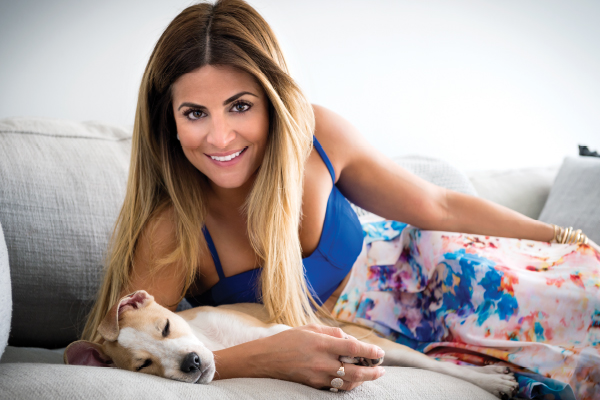 "Don't look up. Whatever you do, don't look up," warned her crew. It was too late. Alison Victoria, interior designer and host of HGTV and DIY Network's popular show, Kitchen Crashers, looked up just as her crew's van pulled into a restaurant parking lot in Chicago to see an emaciated pit bull trying to lick up any scraps of food it could find on the ground.
"I have tunnel vision, I don't even think about anything else," admits Alison, who says she freaked out when she saw the dog literally on its last legs, all skeleton and skin. "I went inside and I got some chicken and French fries. I was trying to feed him. He was so timid and so scared."
She immediately told her crew that she couldn't continue to build anymore that day.
Alison followed the emaciated pit bull around for three and a half hours, through empty alleys on one of the coldest days on record, until he finally calmed down and laid on the lawn of a run-down house.
This wasn't the first time she'd halted production to rescue an animal. There was the time she saved a raccoon (which caused production to stop for five hours), another time it was a bird.
"I black out when it comes to animals," she says. "When I need to save an animal, nothing else is in my brain. It's like fight or flight kind of energy. So if I see anything like this, they know production will stop for a little bit. 'Alison has to go save an animal.'" she jokes.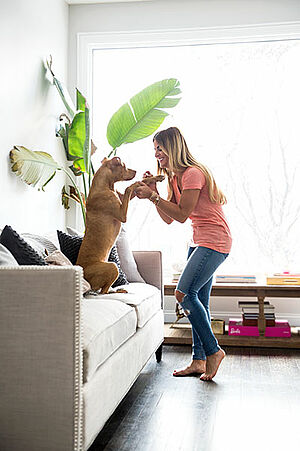 Alison is passionate about a lot of things and while animals have a special place in her heart, her work keeps her busy and traveling around the country regularly.
She knew she wanted to become a designer ever since she was a little girl. She and her best friend decided to redesign her bedroom one afternoon as a project. "We ripped up her carpet. We got to the hardwood flooring. We painted all of her furniture peach. We laid the room out differently, changed out the lighting. You know, we made pillows," she explains, nonchalantly. That's where it all started and that drive and passion for design has been part of her DNA ever since.
Alison left Chicago to attend college at the University of Nevada Las Vegas and became the youngest designer at Christopher Homes in Las Vegas upon graduation. Later she would take the helm at creative director of the Silverton Casino Hotel in Las Vegas, overseeing its $160 million expansion.
When HGTV approached her to do a show along the Crashers theme (Yard Crashers, House Crashers, Bath Crashers), she would become the first female Crasher and host of Kitchen Crashers.
The show premiered its eighth season on air and began shooting season nine in Chicago this April.
In addition to working on Kitchen Crashers, Alison maintains her interior design business and recently designed her second furniture collection with Wicker Park-based Interior Define. A sofa and chair she designed are currently available on the showroom's floor.
Interior Define reached out to Victoria when they were seeking someone with expertise on furniture design for the local Chicago market.
"I know what people want, and I know what's missing out there in the industry, so it was very easy for me to create, and also create based on Chicago," says Alison, referring to the need to be mindful of smaller and tighter spaces and designing with apartments in mind.
"When you're working with smaller spaces, you want to make sure that everything is a conversation piece," she adds. "To be able to swivel and look at the kitchen or swivel and look at the living room and really make it not just about the furniture, but also open up conversation with the piece."
She's also not only the face of Cabinets To Go, but she used the company's cabinets when she crashed her own Las Vegas kitchen recently.
Besides her professional accomplishments and accolades received over the years, including being recognized as one of Crain's Chicago 40 Under 40, how she spends her very limited free time means just as much to her. She only aligns herself with two charities: PAWS Chicago and Habitat for Humanity because she wants to feel like she's making a real difference and not spread herself too thin.
Alison has been a supporter of PAWS Chicago for 10 years, volunteering, helping host events, and encouraging friends to get involved and attend events or foster pets whenever possible. She even considered starting a similar shelter in Las Vegas. And then, the pit bull Domer came into her life in that restaurant parking lot and her appreciation for PAWS Chicago's work escalated.

The Day It All Changed for Domer (and Alison)
Alison could not fathom leaving the dog behind. "He had one blue eye and one gray eye," she says, recalling how striking and beautiful he looked to her that afternoon, despite the fact that he was cold, emaciated, hungry and had clearly suffered neglect from living on the streets.
Once the dog was in a safe spot, she immediately called PAWS Chicago and begged them to help. Alison waited for PAWS Chicago's rescue transport to arrive. Domer affectionately licked the rescue worker Jorge's hand before he jumped into the car to get warm. And, then, Alison says she lost it.
"I could not keep myself together," she says. "Even though I knew he was safe, I was bawling. I was so depressed by his condition and what he lived through, but so happy at the same time."
The following day, Domer found a loving foster that would eventually become his permanent home. "Since that day [Domer was rescued], there is nothing I can do to repay PAWS," says Alison. That experience proved to Alison just how much the organization believes in, and carries out, its mission.
"I'm pretty hard core," she says. "I'm a tough chick and I can handle my own. But when it comes to animals, any animals in need, it melts my heart. It makes me feel so human. It's a love that's unconditional."
Alison considers Paula Fasseas, founder and chair of PAWS Chicago, an inspiration for working toward making Chicago a No Kill city and educating people when it comes to spaying and neutering their pets.
Alison may work on others' homes on a daily basis and her home may be where her heart is – but that's only because that's where her dogs are waiting for her at the end of her workday. She shares her home with a Westin Terrier named Wesley and a Maltese named Kennedy. She calls them her life.
"There is nothing like coming home, especially in the business that I'm in, to have the loyalty of your dogs – you cannot explain it," she admits. "You're on the road, you're stressing out, all I want to do is walk in and have them jump on me. They're the one real thing and one real constant happiness in my life."
Learn more about your pet, PAWS Chicago news and the No Kill movement in PAWS Chicago Magazine.


Photography: Bob Coscarelli
Styling: Mel Muoio