A Mother's Love Knows No Bounds
Sep 07, 2020
Onyx came to us like most of the animals here: homeless and scared. But for Onyx's story, that's just the beginning. After being found under a porch with her four puppies and unable to escape, Onyx chewed off her own foot to survive. Onyx is one of the most incredible dogs we know, and the rest of her life starts now.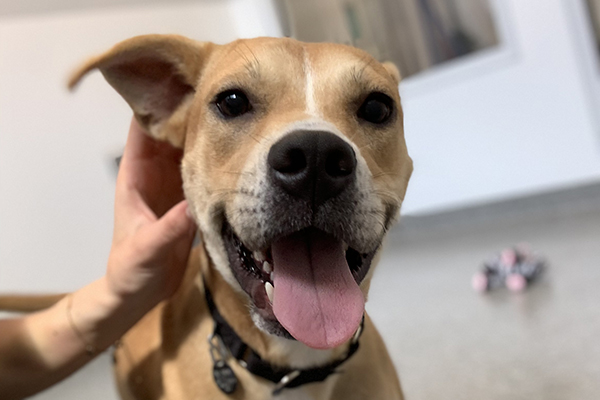 As a haven for sick, injured, and homeless animals, we see the good, the bad, and the ugly every day. When we look at Onyx, we see the bittersweet best.
In the middle of August, Onyx was found as a stray under a porch in Houston, Texas with her four puppies. After some urging, her puppies were coaxed out from under the porch, but Onyx got stuck and was left behind. Whether because of the love she had for her puppies or her sheer desire to live, Onyx chewed off her own foot to escape. One of our Texas transport partners reunited her with her puppies, helped heal her wound, and transferred them all to PAWS, because they know that at PAWS Chicago, homeless pets receive all of the medical care and TLC they need to heal, before being matched with the best families they need for love.
Once at our Medical Center, we made sure Onyx and her pups got the care they needed—including surgeries, vaccinations and personalized medical and behavioral health plans. In the short time that we've known her, we've learned that despite the trauma she's been through, Onyx's favorite thing is pleasing whoever stops to give her head scratches. Her puppies, Okalani, Ophelia, Oakley, and Odele, are weaned and growing in two foster homes and, after a final check-up from our team of veterinarians, Onyx got the all-clear to find her family. We know that even after Onyx leaves us for her future, we'll always remember the sweet, resilient pup who did everything in her power to survive.
There are plenty of other animals like Onyx still battling illnesses and injuries at our Medical Center. Become a Homestretch Hero to help give them a future.