We need your help addressing one of the biggest obstacle to reaching a No Kill Chicago: With nearly 6,000 animals coming through PAWS Chicago's medical and adoption program each year, our Medical Center, located at 3516 W 26th Street, has reached operational capacity.
The limitations of the current medical facility have created a bottleneck in our ability to help more animals. There is not enough isolation space to accommodate the animals suffering from contagious illnesses or in need of longer-term care, while still bringing in animals who need only basic care and will quickly move to the adoption centers.
With our expert veterinary and behavior teams, our current Medical Center is one of the few that can treat and rehabilitate a large volume of sick, injured and behaviorally challenged pets and give them a chance to get adopted into loving homes. In 2020, PAWS Chicago had a 98.17% save rate, even while taking in a vulnerable population of animals.
But our work is far from done, over 5,000 cats and dogs are still being euthanized in Chicagoland each year.
The majority of these animals are suffering from some sort of a medical condition. Because the city pound does not have sufficient medical facilities or isolation space, these pets are euthanized.
Already, more than 75 percent of incoming animals at PAWS Chicago require treatment for a medical condition beyond the standard care protocol. And many suffer from contagious but treatable illnesses, including Canine Influenza Virus, upper respiratory infection, pneumonia, parvovirus, calici, panleukopenia, ringworm and mange.
"As we get closer to No Kill, we are seeing a larger percentage of homeless cats and dogs who are either sick or injured," says Paula Fasseas, PAWS Chicago Founder and Chair. "Expanding our capacity to treat sick and injured animals is essential to reaching our goal of building a No Kill Chicago," Fasseas says.
To meet these needs, we propose renovating and expanding our existing Medical Center. These changes would allow us to double our capacity. By expanding our Medical Center facility, PAWS Chicago can provide the space and care needed to save these precious lives. But we need your help.
---
The New Medical Center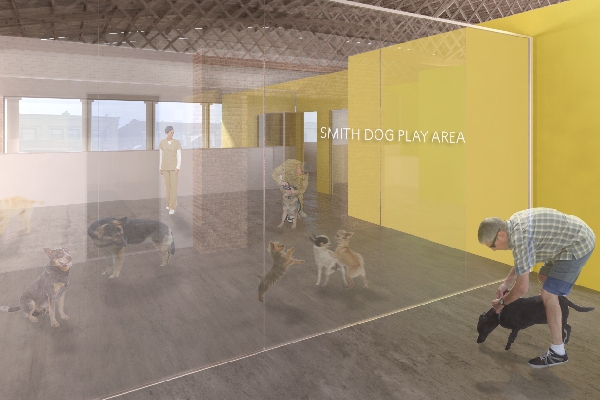 In the new Medical Center, homeless dogs and cats will receive individualized disease management under the care of PAWS Shelter Medicine staff. They will recover from sickness, disease or injury in light-filled, clean spaces while receiving socialization and tender care from dedicated volunteers.

Our current Medical Center facility has 25,000 square feet of space available for build-out and expansion.The space is unfinished, and will require facility upgrades such as structural reinforcement, a sprinkler system, heating and air conditioning, new flooring and drywall, plumbing and electrical work.

The new Center will be divided into two floors for housing and treatment, each with independent airflow systems. By creating two separate spaces, we will be able to isolate animals with contagious illnesses from healthy dogs and cats. When complete, the two-floor system will increase the efficiency of the skilled shelter medicine team by restructuring the intake, treatment and recovery.
The first floor area adjacent to the existing Lurie spay/neuter clinic will be retrofitted as a foster intake area and housing for healthy pets, who are awaiting sterilization surgeries and vaccinations before they can be transferred to our Adoption Centers. We will also build surgical suites where internal surgeries–we call them "special ops"–are performed.

The second floor will be devoted to housing and caring for animals with contagious diseases. The new floor will allow us to take in animals that no one else could treat because they require special medical isolation facilities and attention. Once renovated, the new space will house isolation rooms, where cats and dogs can receive the medical care they need and the space to heal in hospital quality environment. While these animals will be quarantined in special units grouped by type of disease, they will be housed in spacious pods and cages designed to reduce stress and disease transmission.
---
Make a permanent impact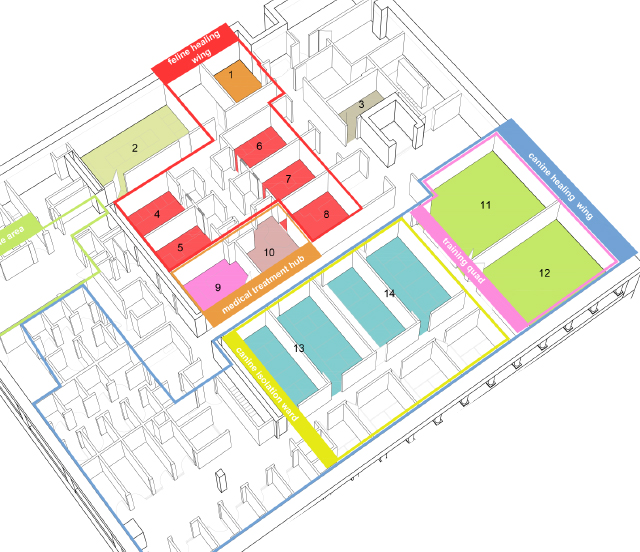 PAWS Chicago is seeking compassionate donors to consider leadership gifts for our Medical Center renovation. These gifts will enable us to save more sick and injured animals.

This is a special opportunity to be part of a new building that will help generations of animals. All leadership funders are offered recognition, including naming rights for spaces within the building. All gifts are payable over a number of years.

For more details, please contact Betsy Moore at 773-475-3320 or bmoore@pawschicago.org