Naming Opportunities
PAWS Chicago Medical Center
PAWS Chicago is seeking compassionate donors to consider leadership gifts for our Medical Center expansion. These gifts will enable us to save even more sick and injured animals.

This is a special opportunity to be part of a newly renovated building that will help generations of animals. All leadership funders are offered recognition, including naming rights for spaces within the building. All gifts are payable over a number of years.

For more details, please contact Betsy Moore at 773-475-3320 or bmoore@pawschicago.org.
---
Join a Growing List of Generous Donors
Maddie's ® Homeless Pet Hospital
Judith White Intake and Triage Center
Petco Foundation Canine Quarantine Pavilion
Bailey's Healing and Rehabilitation Ward and Play Space
Michael and Melissa Canning Feline Maternity Suite & Healing Room
Kyle Beecken Foster Welcome Area
The Irving and Phyllis Millstein Foundation for Animal Welfare, Ltd. Surgical Suite
John Northen Canine Quarantine Ward
Wayne and Nan Kocourek Canine Intake Ward
Stephanie, John, Charlotte and Henry Harris Canine Intake Ward
PFK Family Foundation Canine Intake Ward
George Raskin Intake Ward
Hurst Play Space
Surgical Prep Room - In Loving Memory of Bebe & Sugar VandenBerg
Surgical Recovery Room - In Memory of Eileen Kosinski
Buddy's Fire Suppression System
David M. Klaskin Family Elevator
Bazinga's Room
Kitten Room - In Memory of Kathryn Miyamoto Wier
Mitchell, Marla, Landon, and Camryn Wilneff Laboratory
Wynne Grace Mateffy Play Space
Wayne and Nan Kocourek Volunteer Center
PFK Family Foundation Volunteer and Intake Team Offices
Nancy and Michael Timmers Feline Exam Room
Daniels-Malinski Family Foundation Canine Exam Room
The MC 5 Play Space
Meeting Room- In Loving Memory of Quincy and Augusta "Gus" Eccles
---
First Floor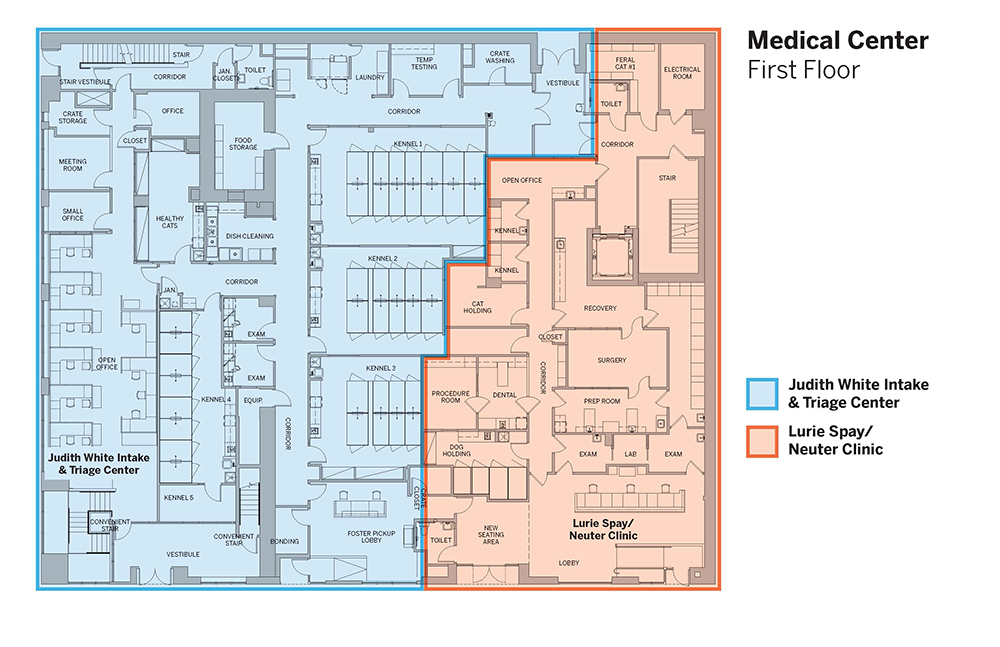 Lower Level