Home for the Holidays
Meet Mojo and Pedro. Thanks to your support, these two special pets will be celebrating their very first holiday season with loving families. Please consider making a donation so more pets can experience the joy and comfort of a happy home.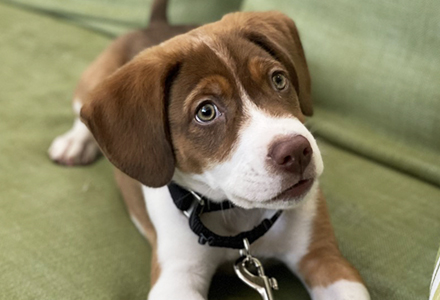 Mojo
Mojo was just a tiny, 2-month-old pup suffering from parvo when he came to PAWS Chicago. Parvo is a highly contagious virus with deadly consequences if left untreated. It's also uncurable—the Medical Center team put Mojo on an IV drip to prevent dehydration and medication to support his immune system so his body could fight the virus. Mojo didn't get better overnight. He lost 10 percent of his body weight before bouncing back. With the constant care and attention of our devoted medical team, this resilient puppy made a full recovery and is now double his original weight. And with the help of our adoption team, he found a family that will shower him with love every day of his life.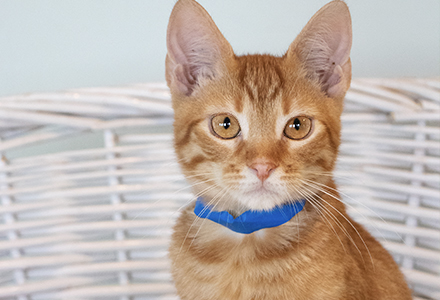 Pedro
Pedro came to PAWS Chicago as part of our Hurricane Ida crisis relief efforts. After enduring the long ride from Louisiana to Illinois, Pedro was quarantined because of exposure to a ringworm outbreak among our transport pets. Pedro was also suffering from an upper respiratory infection that causes coughing and sneezing, as well as runny eyes and nose. Thankfully, our recent Medical Center remodel and expansion tripled isolation capacity making it possible for us to care for hundreds of animals without the risk of spreading contagious illnesses. Pedro was given medicated baths to treat ringworm and antibiotics to treat his respiratory infection. Under the care of our team, Pedro returned to full health and is now enjoying the comfort of a happy home.
---
None of this would have been possible without the support of animal-lovers like you. Every gift helps make sure more pets are given a second chance at happiness. And when you donate during the holidays, our friend Michael Sweig will match your gift dollar for dollar. Take advantage of this incredible chance to double instantly double your impact.