Join PAWS Chicago in honoring Betty White's legacy as an animal lover and advocate. Support homeless pets by contributing $5 or more to the #BettyWhiteChallenge.
New Gift Match
Tito's Vodka is matching donations today up to $1,500!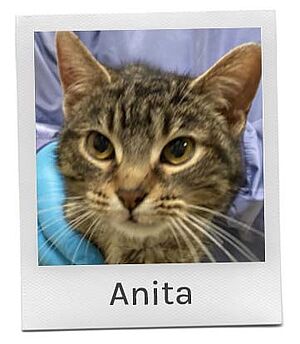 Your donations helps homeless pets, like Anita
The first thing you'll notice are her intense, curious eyes. She looks right at you like she has something to say. What you can't see is the deep and painful tear in the wall separating her chest and stomach that required emergency surgery.
Anita was facing death when our medical team stepped in. She was underweight, anemic, dehydrated, and had a fever. On top of all that, she had a hole in the wall separating her chest and stomach which needed immediate surgery. The city shelter called us because they knew we could help. PAWS Chicago is one of the few Medical Centers in the country that can assemble a specialty team capable of treating Anita. It's why we built our state-of-the-art Medical Center, and why, with your help, thousands of other pets like Anita will get their second chances too.
---
Add your message of celebration and support for Betty White
Thank you for donating!
---
Robert Allen
Gail Allinson
Anonymous
LaNoira Auriene
Stuart Baker
Matthew Baker
Tara Banick
Catherine Bannister
Chris Barker
Michael Barutt
Teresa Beatty
Breanne Behnke
Kelly Behr
David Bell
Kevin Benjamin
Gayle Berkeley
Fran Bertini
Mary Bertram
Patricia Biagi
Dawn Birkenheier
James Blanford
Laura Bloodgood
Rae Bolender
Therese Bonomo
Joe Bracht
Pamela Brand
Jean Brasie
Kathryn Bresich
R Scott Brigham
Melissa Brouilette
Anne-Sophie Brumelot
Megan Buccola
Danielle Bugasch
Christine Bunting
Sheila Buralli
Jay Burghardt
Kathleen Burke
Carol Butcher
Paula Calvert
Peter Cannella
Caroline capotosto
Judy Caracci
Dianne Carlson
Tammy Cassidy
Barbara Centeno
Terri Charal
Peter Cherr
Karen Chiaramonte
Eryn Clemens
Nancy Clifford
Jill Cochrane
Kathy Cofer
Kathryn Coffey
Elizabeth Coleman
Emily Collins
Mary Coonley
Tim Coughlan
Michelle Coughlin
Patrick Crawford
Liz Cruz
Julianne Dahl
Richard Dalton-McPherson
Karen Damato
Rick Davis
Frances DeBlasio
Elizabeth Decker
Suzanne Deguilio
Kristen DeLay
Sandra Demyanovich
Sarah Dickey-Dillman
Monica Dillon-Nelson
Sierra Dixon
Dana Dolatowski
Carol Dryburgh
Bob Drysch
Scott Duncan
Dennis Dunn
Barbara Dutch
Rebecca Easley
Douglas Eck
Tim Emond
James Engel
Karen Engstrom
Esme Erazo
Marshall Erb
Robert Ernst
Laura Espinoza
Christa Fagan
Tina Falcoff
Carrie Farver
Ann Feeney
Alexis Feinstein
Phyllis Fischell
Joseph Franco
Joni Friedkin
Tanya Friese
Margie Frohlich
Laura Gaa
Wayne Gailis
Meg Galus
Julie Galvez
Corrine Ganiec
Nina Gaspich
Jill Giddings
Jerry Gilio
Michael Ginn
Carol Glas
Irene glowacki
Nancy Glynn
Jacquelyn Golab
Susan Goodenow
Mari Gordon
Marianne Gorman
Phyllis Granahan
Marlene Green
Debra Grimsley
Tamara Haegerich
Eleanor Hambric
Jim Hampton
William Hanselman
Karen Harris
Cindy Hatfield
Dacia Heck
Michael Heeter
Tammy Hein
Beth Hendrickson
William Herman
Jacquelene Hermie
Lori heywood
Linda Hickey
Karyn Hildebrand
Helen Hill
Rae Hogan
Arlene Homa
Susanna Homan
Marge Hubacek
Lisa Hudak
Tania Hutchinson
Tamara Iovan
Janice Johansson
Emily Johnson
Jodi Johnson
Jeana Jordan
Israela Kaplan
Kristi Kawanna
Maria Kawasaki
Gretchen Kayne
Rajon Kenyon
Shiyun Kim
Donna King
Veronica Kinnelk
Donna Kirk
Christine Klacza
Rhonda Kladder
Brett KLOTZ
Alice Kmoch
Willard Knox
Mary Kolar
Linda Kollmeyer
Linda Krause
Danielle Krause
Diane Kulik
Colin Lam
Chuck Lambert
Matthew Lambrecht
Layne Langford
Jackie Larsen
Kristine Larsen
James Laudante
Chucky Lawrence
Kathleen Lempa
Michelle Leonard
Alison Lindahl
Susan Lowe
Paul Mally
Johana Marquez
Lisa Marzano
Barbara Masciola
Susan Masek
Nancy Mason
Jenette Mata
Christopher Maurer
Tracy McCarthy
Eden McCauslin
Michelle McConville
Diane McGovern
Jess McKune
Ewa McLaughlin
Barbara McNellis
Maverick Meister
AJ Meister
Nancy Mendoza
Rebecca Miele
Sheila Miller
Halle Miroglotta
Debra Moracewski
Patricia Morelli
Lisa Mysker
JoDee Nather
Nancy Neely
Elizabeth Negron
Robert Neubert
Ryan Nolan
Patricia Norum
Tom O'Brien
Lauren O'Hearn
Caitlin O'Shaughnessy
Susan Oleary
Kim Orsi
Rosa Palacios
Robert Pancic
Beth Ann Papoutsis
Jeffrey Parker
Jen Peck
Matilda Perez
Tony Pezzulo
Hillary Phelps
Lisa Podraza
Mary Popiela
Kathi Porter
Katherine Powell
Katie Press
John De Prosperis
Renee Purdy
Thomas Quicksell
Elaine Raisanen
Jennifer Ramirez
Philip Redmond
Gregoria Reyes
Denise Richter
Kristin Rick
Julie Ringholm
Linda Riskin
Richard Rodes
Doris Roeder
Laura Romano
Barbara Rosenberg
Denise Rossi
Juliana Rubio
Colleen Rummel
Leann Runyanwood
Lance Sabbag
Elmer Sagehorn
Teddi Santos
Isabella Sawyer
Bobby Schafer
Jill Schafer
Connie Schlangen
Karen Schmidt
Andrew Schneider
John Schwartz
Rebecca Segal
Ellen Shannon
Cindy Shaw
Bonita Shea
Brooke Shevtsov
Kathleen Showalter
Gail Silver
Shanna Simpson
Sean Sitzes
Deborah Skory
Louise Smith
Lucy Smith
Kevin Smith
Rita Smith
Sean Smith
Barb Snyder
Lizabeth Sode
Rick Standridge
Susan Stein
Christine Steinmarch
Rosemary Sullivan
Mark Svehla
Andrea Swiatkiewicz
Judy Szymczak
Morino Takamura
Mariann Taksas
Mary Jane Tala
Jose Tardy
Mary Targosz
Patricia Temske
Marie Thompson
Pamela Tichy
Ron Traub
Lisa Trevino
Debra Umhofer
Joseph Ursini
Jacqueline Vaca
Sarah Van Sessen
Jeff Vercauteren
Roberto Vicevich
Yvonne Villareal
Larry Villella
Matt Villicana
Pamela Wagner
Terri Walkington
Maggie Waltman
Spencer Watson
Lisa Weaver
Julia Weertman
Cheri Weiglein
Ellen Wein
Melissa Welch
Virginia welter
Denise Werner
Betty White
Katie Wienke
Robert Wilborn
Tamera Williams
Michelle Wohlwend
Alexander Wolfson
Cindy Woodville
Patty Yaconis
Nancy Zadrozny